" Tour Of The Universe "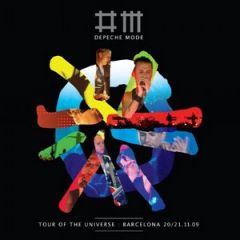 CD-1
1. In Chains
2. Wrong
3. Hole To Feed
4. Walking In My Shoes
5. It's No Good
6. A Question Of Time
7. Precious
8. Fly On The Windscreen
9. Jezebel
10. Home
CD2
1. Come Back
2. Policy Of Truth
3. In Your Room
4. I Feel You
5. Enjoy The Silence
6. Never Let Me Down Again
7. Dressed In Black
8. Stripped
9. Behind The Wheel
10. Personal Jesus
11. Waiting For The Night
Depeche Mode
to marka, której nie można zanegować. Wszyscy ważni świata muzycznego inspirowali się tą grupą w swojej twórczości, a według znanej reklamy producenta telefonów komórkowych, słuchają jej ludzie w każdym zakątku świata, każdego koloru skóry czy profesji.
Oczywiście dzisiaj nie jest to już ten sam zespół co kiedyś.
Za czasów DVD "
Devotional
" był u szczytu kariery i osiągał wyżyny artystyczne jak i bił rekordy w ilości substancji niedozwolonych w organizmie.
Teraz - po 30 latach na scenie - są już grzeczniejsi, mają całkowity kontakt z rzeczywistością, są bardziej przewidywalni.
"

Tour Of The Universe

"
to zapis koncertu z Barcelony z ich ostatniego tournee. Wszystko zapięte na ostatni guzik, skrojone na miarę, eleganckie i słodkie. Brakuje tu trochę tego brudu z lat 90., ale mamy za to dopieszczone do granic możliwości wydawnictwo składające się w wersji podstawowej z dwóch płyt audio i jednej DVD.
Uzębienie należy jednak zbierać dopiero po obejrzeniu wersji Blu-ray.
http://www.youtube.com/watch?v=6g4PfarhzFs
Blu-ray DVD
http://merlin.pl/Tour-Of-...g,8,9198149.jpg
Disc 1
AudioVisual
1. Intro (Live In Barcelona)
2. In Chains (Live In Barcelona)
3. Wrong (Live In Barcelona)
4. Hole To Feed (Live In Barcelona)
5. Walking In My Shoes (Live In Barcelona)
6. It's No Good (Live In Barcelona)
7. A Question Of Time (Live In Barcelona)
8. Precious (Live In Barcelona)
9. Fly On The Windscreen (Live In Barcelona)
10. Jezebel (Live In Barcelona)
11. Home (Live In Barcelona)
12. Come Back (Live In Barcelona)
13. Policy Of Truth (Live In Barcelona)
14. In Your Room (Live In Barcelona)
15. I Feel You (Live In Barcelona)
16. Enjoy The Silence (Live In Barcelona)
17. Never Let Me Down Again (Live In Barcelona)
18. Dressed In Black (Live In Barcelona)
19. Stripped (Live In Barcelona)
20. Behind The Wheel (Live In Barcelona)
21. Personal Jesus (Live In Barcelona)
22. Waiting For The Night (Live In Barcelona)
23. World In My Eyes (Live In Barcelona)
24. Sister Of Night (Live In Barcelona)
25. Miles Away / The Truth Is (Live In Barcelona)
26. One Caress (Live In Barcelona)
High Definition Audiovisual
1. Intro (Live In Barcelona)
2. In Chains (Live In Barcelona)
3. Wrong (Live In Barcelona)
4. Hole To Feed (Live In Barcelona)
5. Walking In My Shoes (Live In Barcelona)
6. It's No Good (Live In Barcelona)
7. A Question Of Time (Live In Barcelona)
8. Precious (Live In Barcelona)
9. Fly On The Windscreen (Live In Barcelona)
10. Jezebel (Live In Barcelona)
11. Home (Live In Barcelona)
12. Come Back (Live In Barcelona)
13. Policy Of Truth (Live In Barcelona)
14. In Your Room (Live In Barcelona)
15. I Feel You (Live In Barcelona)
16. Enjoy The Silence (Live In Barcelona)
17. Never Let Me Down Again (Live In Barcelona)
18. Dressed In Black (Live In Barcelona)
19. Stripped (Live In Barcelona)
20. Behind The Wheel (Live In Barcelona)
21. Personal Jesus (Live In Barcelona)
22. Waiting For The Night (Live In Barcelona)
23. World In My Eyes (Live In Barcelona)
24. Sister Of Night (Live In Barcelona)
25. Miles Away / The Truth Is (Live In Barcelona)
26. One Caress (Live In Barcelona)
Disc 2
AudioVisual
1. "Most people just worry about hitting the right note" - Inside The Universe
2. In Chains (Tour Of The Universe / Screens)
3. Walking In My Shoes (Tour Of The Universe / Screens)
4. Precious (Tour Of The Universe / Screens)
5. Come Back (Tour Of The Universe / Screens)
6. Policy Of Truth (Tour Of The Universe / Screens)
7. Enjoy The Silence (Tour Of The Universe / Screens)
8. Personal Jesus (Tour Of The Universe / Screens)
9. Wrong (Tour Of The Universe / Rehearsals)
10. Walking In My Shoes (Tour Of The Universe / Rehearsals)
11. Insight / Live
12. Hole To Feed / Live Screen Montage
13. Behind The Wheel / Barcelona Montage
14. Never Let Me Down Again / Live Screen Montage
15. Wrong
16. Peace
17. Hole To Feed
18. Fragile Tension
High Definition Audiovisual
1. "Most people just worry about hitting the right note" - Inside The Universe
2. In Chains (Tour Of The Universe / Screens)
3. Walking In My Shoes (Tour Of The Universe / Screens)
4. Precious (Tour Of The Universe / Screens)
5. Come Back (Tour Of The Universe / Screens)
6. Policy Of Truth (Tour Of The Universe / Screens)
7. Enjoy The Silence (Tour Of The Universe / Screens)
8. Personal Jesus (Tour Of The Universe / Screens)
9. Wrong (Tour Of The Universe / Rehearsals)
10. Walking In My Shoes (Tour Of The Universe / Rehearsals)
11. Insight / Live
12. Hole To Feed / Live Screen Montage
13. Behind The Wheel / Barcelona Montage
14. Never Let Me Down Again / Live Screen Montage
15. Wrong
16. Peace
17. Hole To Feed
18. Fragile Tension